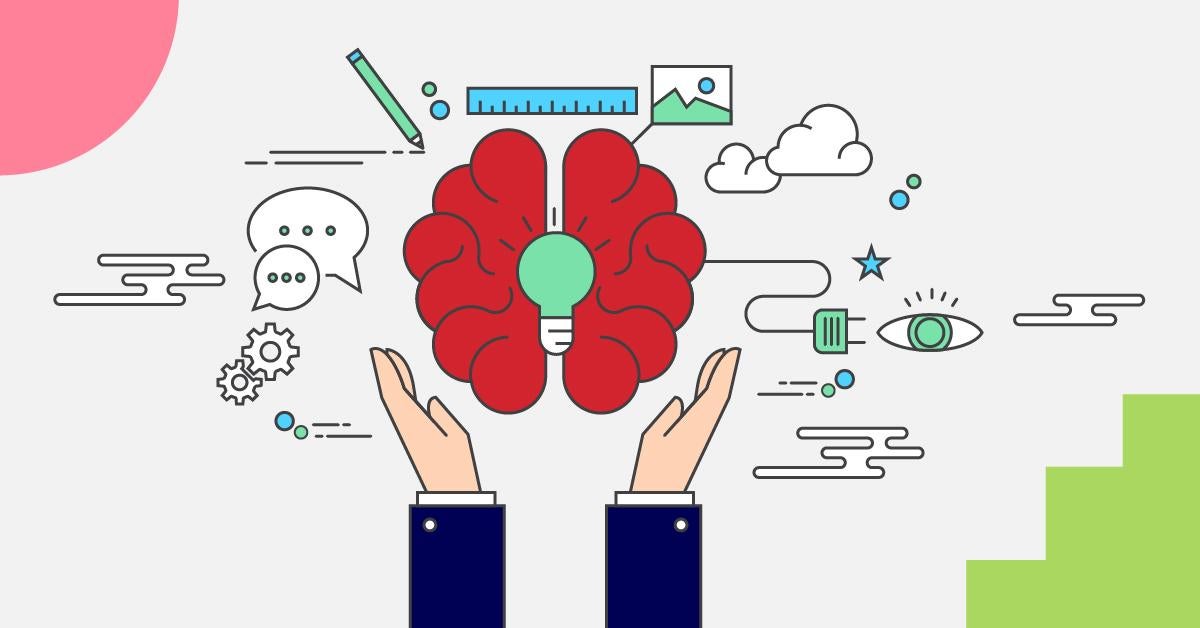 In the past, some companies had the ethos of 'design it, and they [customers] will come'. As the business landscape has become more competitive, companies have had to place greater consideration of customers' needs and requirements. 
Enter: design thinking, an iterative, nonlinear process that puts customers at the heart of every element of the design process. 
While considerations of customer needs are a large part of what design thinking is, it involves more than the remit of product designers. Professionals across industries practise it whenever they need creativity and innovation in problem-solving. Design thinking, then, is less about designing and more about problem-solving, which can translate to many business contexts. 
In such scenarios, design thinking is useful because it aims to interrogate assumptions and identify alternative strategies and solutions. 
Given the constantly evolving business landscape and an increasingly globalised world, professionals need a solid understanding of design thinking to help their company reach its goals efficiently. 
The benefits of design thinking
Design thinking can lead to massive improvements throughout the business landscape, such as a 75 per cent efficiency increase and a 300 per cent return on investment (ROI) increase, according to the International Business Machines Corporation (IBM). 
Here are the top five benefits of design thinking and examples of how they have improved business outcomes across industries. 
Encourages innovative thinking
Unlike other forms of problem-solving, which encourage people to jump into solution mode, design thinking encourages reflecting on the problem from the end user's perspective. Design thinking enhances people's ability to question the assumptions behind a problem and the implications of those assumptions.
For these reasons, design thinking encourages new ideas and approaches to problems. Since innovative thinking is all about being creative and flexible while testing and learning, design thinking and innovative thinking often overlap. 
One company that knows this all too well is design consultancy firm IDEO. IDEO has been credited with many groundbreaking inventions, including the computer mouse. One of IDEO's partners, Axel Unger, says the key to the company's creativity and innovation is the iterative approach that encapsulates design thinking. Unger says: 'No idea is too absurd and you never know if something will work until you try it.' 
Increases market-ready efficiency 
When designing new products and services, an issue that many organisations face is their speed to market. With trends and customer expectations moving faster than ever before, organisations need to have developed the ideal product yesterday. 
One reason that organisations are often slow to develop new products, especially in the technology space, is due to long development cycles prior to user testing. With design thinking, this problem is turned on its head, as was evidenced by IBM. 
IBM partnered with a large telecom operator that had been losing prepaid recharge revenue to quickly develop new functionalities for its service. This included an ability for customers to see their data use in real-time. This development was based on a research conducted directly with IBM's customers, an idea born from best practice design thinking. The collaboration provided both a quicker method for prepaid recharge and a way for customers to see their bills being created. 
Ultimately, it yielded a 36 per cent increase in recharge value, as well as a 36 per cent increase in the value of each recharge. 
Improves cost-effectiveness
Long development cycles for new products can be costly. They include development and testing costs, as well as the one ultimate cost: the risk of product failure. 
For this reason, another benefit of design thinking is improved cost-effectiveness, which is closely aligned with reducing speed to market. It does so by encouraging product developers to question their assumptions and test their ideas before locking themselves into rigid, time-intensive designs. 
One company to experience this is household appliances designer and manufacturer Dyson. The company itself was born through innovative experimentation. Founder James Dyson was frustrated with his own vacuum design, leading him to invent the first bagless vacuum cleaner called the 'G-Force'. This new vacuum model was born through user-centred design thinking, delivering:
improved efficiency

cost savings, such as manufacturing costs and vacuum bag costs for consumers 
Revenue from G-Force sales allowed James Dyson to found Dyson Ltd., which is worth over $11 billion at the time of writing.
Leads to enhanced customer loyalty
Design thinking can enhance customer loyalty because a company's products and services are designed to exactly meet their needs. 
It encourages companies to continually empathise with their customers and put them at the centre of their decisions. These companies are interested in the quality of their products and services, and in ensuring that their customers' needs are met at every touch point. 
One particularly interesting example is the partnership between IDEO and Bank of America. They came up with an innovative way to help retired women save money: by keeping their change through a banking app. Through design thinking, they were able to target a specific group of people who would benefit from such service. Since its 2005 launch, 12 million customers have registered, yielding savings of approximately $3 billion. Additionally, 60 per cent of all new customers register for the app. 
Inspires others to think creatively
Whenever design thinking is applied, creativity ensues. This is because design thinking is a collaborative process, and when one person is being creative and challenging the status quo, it encourages others to do the same. 
One example company is Toyota, which uses design thinking to redesign its entire contact centre process to address long wait times and decreased customer satisfaction. 
Toyota interviewed multiple stakeholders and used its findings to streamline its processes: by providing service representatives with easily-accessible support resources and consolidating software programs. The project saved millions of dollars, improved customer satisfaction and birthed a company-wide problem-solving model. 
Design thinking principles
Successful companies such as IT company Cognizant have also embraced design thinking principles as a collaborative framework for human-centred design and continuous innovation. Like other companies that have implemented design thinking, Cognizant emphasises human-centred designs, creative ambiguity and a comprehensive review and improvement of tangible theories and prototypes. These fundamental tenets define what design thinking is, contributing to creative problem-solving and ultimately business success.
1. Human-focused perspective
It is a design thinking principle that people, not technology, should drive innovation. 
Designing new products and services should centre on collaboration and empathy, rather than on a traditional manufacturer-centric approach. It facilitates user-driven innovation, wherein designers create solutions for themselves as customers and use manufacturers as agents. 
2. Ambiguity
Design thinking is the antithesis of following rules and continuing to do what has been done. For that reason, ambiguity should be embraced: ambiguity is inevitable and experimentation is key. 
Ambiguity invites more than one interpretation. Using design thinking, designers experiment at the limits of their knowledge and allow creative solutions to control the outcome. 
3. Redesign
Unlike traditional long development cycles, design thinking emphasises designing, testing, then redesigning, and then testing and iterating some more. Products and services that are developed using design thinking are never 'done', but are continually in a redevelopment process to meet current customer desires. 
4. Tangibility
Design thinking encourages measurable progress and creative solutions. However, not all hypothetical theories would be successful in real-world situations. Creating actionable hypotheses and tangible prototypes can help designers determine which ideas work in practice. 
Design thinking in the new world of business
Although design thinking principles can sound abstract, many companies such as IBM have successfully put them into practice. 
To ensure it is always at the forefront of innovation, IBM employs a design thinking strategy that rests on three foundational elements: 
a focus on user outcomes

restless reinvention

diverse, empowered teams 
Incorporating these elements in new product development, IBM is able to execute a process of rapid iteration that involves constant observing, reflecting and creating. 
Research conducted by Forrester has shown that the approach has added $71.3 million in benefits to IBM, resulting in an ROI of 301 per cent.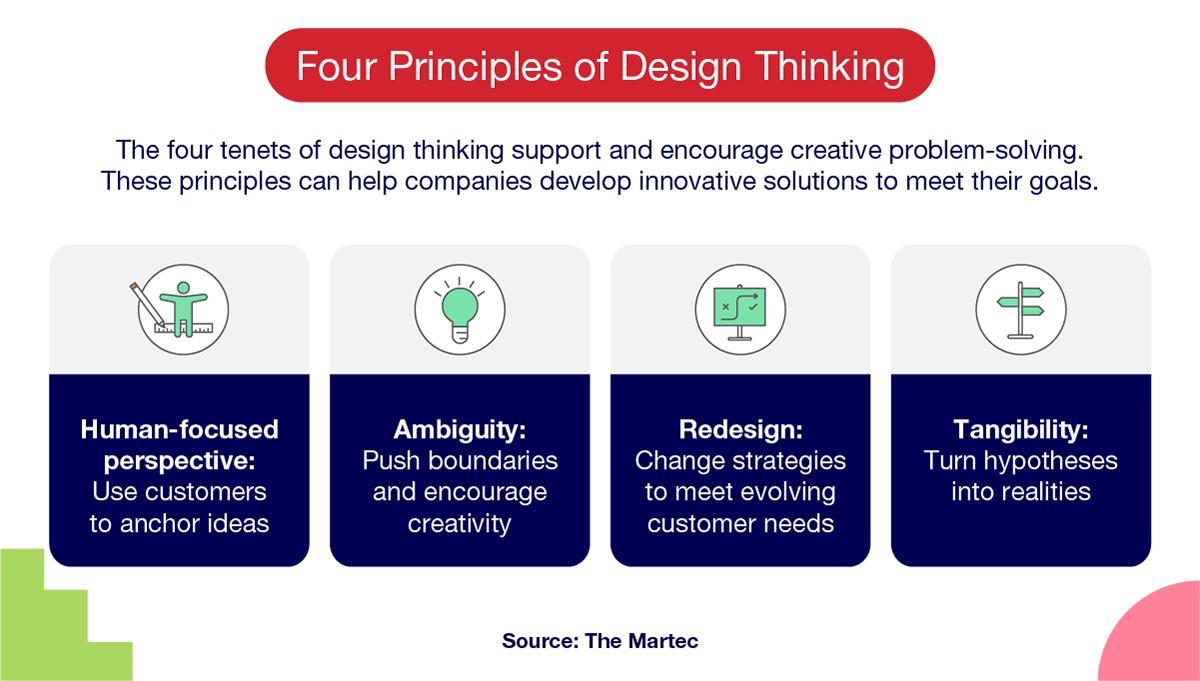 Five phases of design thinking
The question now is, how do we get started? These are five main phases of design thinking: 
1. Empathise
Businesses often believe that they know their customers better than anyone else. But, sometimes, they design products for themselves and make assumptions about what their customers want and need. 
In reality, organisations need to understand their customers' needs, attitudes and aspirations, as well as the barriers they face to reaching them. To do so, they need to observe and engage with their customers constantly. 
Empathising with the customer is an essential part of what design thinking is.
Empathising tools
To empathise with customers, gathering and analysing customer data is integral. Data gathering tools enable businesses to effectively collate and make sense of qualitative customer data such as usage data and questionnaires. 
Tools commonly used for gathering such data, especially on the web, include Formplus and Fulcrum. 
2. Define
The next phase of design thinking is to seek clarity, focus and definition in any customer data. 
An organisation should focus on:
understanding themes and patterns

reassessing its assumptions about what the customer really needs and wants 
Definition tools
Data visualisation involves a clear presentation of customer data so different stakeholders can see its meaning and impact. 
Popular data visualisation tools include Google Charts and Tableau. 
3. Ideate
The third phase is to start developing potential solutions. This is an exciting phase for businesses where they get to creatively come up with multiple solutions to a problem. 
Tactics that can be used in this phase include: 
brainstorming

mind mapping 

landscape mapping 
Eventually, the proposed solutions should be assessed and the preferred ideas shortlisted, noting the strengths, weaknesses, opportunities and threats (SWOT) of each. 
Ideation tools
Brainstorming tools are essential for ideation and creating solutions to customer problems. They enable organisations to develop concepts in the form of mind maps, which in turn can generate, visualise, structure and classify ideas. 
Some brainstorming tools include Miro and Mural. 
4. Prototype
The prototyping phase is where ideas become tangible. Here, organisations create solutions that their customers will understand and appreciate. 
The prototyping phase is always iterative, though. Solutions may be designed, rejected and then redesigned. And feedback and critiques should always be welcome – there will be ample room for cross-function collaboration and inputs.  
Prototyping tools
Prototyping tools help organisations turn abstract ideas into potential products. They can help storyboard ideas as well as map out user scenarios and experience journeys. 
Prototyping tools include InVision and Bubble. 
5. Test
The final phase of design thinking is to test the solution that has been developed. This can be done in many ways, but both qualitative and quantitative market research should always be part of the process. 
To get a full picture of how their solution performs, organisations should ask open-ended questions such as:
What problem does this solve for you?

How does this solution impact your experience?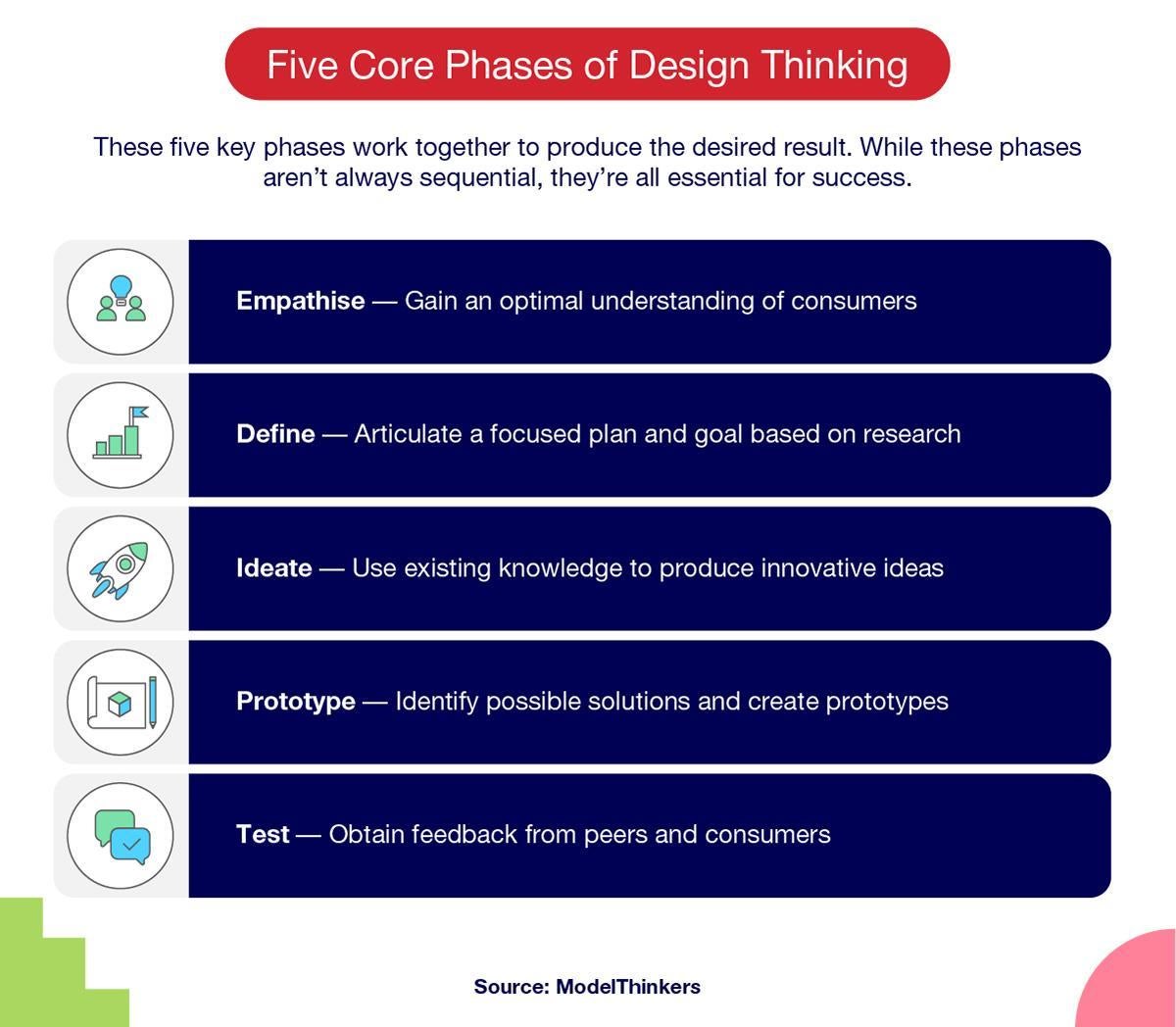 Education and skills for design thinking
Executing design thinking requires a suite of skills, which can be learnt through formal education. For example, when studying for a Master of Business Administration (MBA), students learn to:
solve case studies

act as consultants

implement design thinking methodologies
MBA programs can help build the following essential skills required for design thinking: 
Leadership and management
Challenging assumptions and the status quo are both important aspects of what design thinking is. Leadership skills are required to do this, including the ability to inspire and motivate others toward innovation. 
Management skills are equally important, as design thinking involves collaboration among multiple people and departments. MBA programs help students learn both of these essential skills. 
Financial analytics
Analytical skills, which MBA programs develop, are essential to managing design thinking projects. Financial analytics involves the analysis of financial data to uncover insights that can help solve business problems and forecast possible scenarios. 
Financial forecasts are particularly important in the ideate and prototype phases. They help a business decide which solutions are most financially viable. 
Design thinking for business
Design thinking can apply in many different contexts, but in business, it should ultimately help yield a good ROI. Understanding how design thinking principles affect business finances and practices can help companies maximise their success. 
Futures thinking
Futures thinking is an important aspect of design thinking, to understand and address problems across contexts, and then come up with productive solutions. 
Technology and innovation
Two essential skills that MBA students learn are how to best use technology and innovation to improve many organisational aspects. As digital entrepreneurship and innovation are often a part of design thinking, almost all design thinking processes will involve technological creativity. 
Design thinking for the future
There's no doubt that design thinking will gain popularity in the future of product and service design. As companies continually innovate in a competitive business environment, they likely will seek employees who understand what design thinking is, both in theory and in practice. 
After all, design thinking has the power to transform not only an organisation's products and services but also its profitability. 
Further resources
Learn more about design thinking in business and its relevant tools below: 
Infographic Sources:
The Martec, 'Design Thinking as a Strategy for Business Innovation'
ModelThinkers, Design Thinking
----------